I'm not good in pouring my heart out.. I'm a keeper even though I know getting it out could make me feel better. But reading other people that participate this week gave me the courage will try to say something here that I kept with me for so long...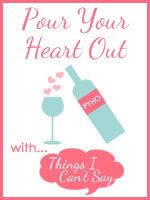 Owkay...
take a deep breath - here we go...
Not a lot of people knows except my family, my best friends and old family friend that my biological mom pass away while I was just -if i'm not mistaken- 6 yrs old and she was pregnant for 5 month -this one also if i'm not mistaken-, the baby went with her. Not long after she died, my father and I move to Jakarta. I live with my auntie while my father is working out of town, he gets home every 3 months, he get pretty busy and I remember how rarely we met and talk to each other.
One day, when I was almost 8, my auntie came to me and ask my idea of having a new mom... I refused... but of course.. that didn't prevent my daddy to married my new mom...
Shorten up, now I have a great mom and 2 silly brother, they always makes me laugh...
But, every family has their own story...
We never talk about my late mom, it was like she never even exist, I only have 1 picture of her liting my 4th birthday candle, my grandma gave it to me, thats it!
I don't even know if my brothers knows about this and I'm their step sister... and I dreaded their reactions if they knew.. sooner or later they will know... but that's not the point..
My unfinished feelings and questions because of the lack of communication between me and my dad.... I never really get over with her dead. There's a lot of question running around in my head, what is she like? what is her hobby? likes and dislikes? what is her favorite song? favorite food? how did she died? is it true that she died pregnant?
really... I don't know...
I don't entirely blame my parents for not telling anything to me. I too, never had the guts to ask them my questions... I'm afraid my father will be hurt and my mother will be offended...
I always had this one vision of me and my late mom doing a silly dance and sing in our old living room... but I'm not sure... probably my eagerness "created" those visions and make my self believe that it really happen... God knows how much I miss her...
some time I cry... my lovely reader knows how sloppy I am...
I cry for missing her... so deeply...
I really wish that someday I could have all the answer... hoping I could talk about her especially with my dad, I need to know his feelings towards her... I don't even know for sure if he loves her...
But, every time I miss her and needs her I know she is there...
Now I'm diverting all my love for my mom to my 2 little princess... so they have double love from me...
And each night I pray to God to keep me live for long enough to raised them and see them grow...
pppfffuiiihh... wow...that's quite a relief....
xoxo
PS. Thanks Shell...